LTUE 2018 Short Stories in a Nutshell
Wordfire Press Daily Science Fiction, Nature, Futures. Flash Fiction online. Analog, Writers of the Future. Assimov
Meaningful emotions in a short time space?
Put someone sympathetic in peril. Save the cat. Make a character that induces significant emotions. Either like or hate as soon as possible. Always show don't tell. Story - The Hole Where Andy Used To Be Amy Hempel - The Cemetary Where Al Jolson is Buried
20% of people think emotionally. Kinestetic appeal. What they are thinking or doing or going through. Get a kinestetic appeal in every paragraph. Audio and video into the story.
Once you tell them what your character is feeling they are in the story and they emotions that the character feels will be felt by the reader.
Always be genuine. How do people really react. Be honest.
The Emotion Thesaurus - Book
Emotion vs Melodrama
Never have your character cry if you want your reader to cry. Have the character restrain emotion. The reader will let the emotion go.
Allow the scene to open up and show the reader how you feel. Simlie and Metaphor, especially stacked, will kill the emotional impact.
Don't stack adjectives, and don't stack simile and metaphor.
Major Pitfalls
Don't describe the character at the beginning of the story. Short stories have to begin immediately. Within two pages.
With flash fiction - conflict has to be in the first paragraph.
See an interesting character doing something interesting right at the beginning.
Bad endings are more disappointing. Editors will flip to the last page or the last paragraph.
Jape - form of short fiction often with a pun.
Calvino - The Man Who Shouted Teresa
Get right to the interesting stuff. Looking for a powerful sense of wonder.
Dont' worry about establishing the normal unless the characters life is already interesting.
Skillset
Limit the conflict and limit the charcters. Only one character and focused on 3 min of their life.
One layer of conflict.
A novel is a set of interconnected short stories. If you tear it apart you can see where things begin and end.
Have trouble deepening and broadening the plot into something large enough to fill a novel.
Tor only wants 120k words.
Writing a scene is like writing a short story.
Setting, when where why, how cool. Characters, Viewpoint charcter and others. Goal/Conflict/Obstacles. What strategies to resolve the problems. What changes at the end of the scene. Does someone die, leave the quest, etc.
Enter scenes late and leave them early.
Trust your reader to fill in details you don't supply. (Short story on the back of a business card)
Cut the scenes, characters, subplots, reduce complexity of main plot.
Sometimes you need to tell instead of show.
Start close to the end of the story.
Get into the market
The submission grinder Duotrope - paid Writers of the Future.
Read stories that your market is publishing. Read a market a month and then write for it.
Proven author. Someone who sells regularly to multiple markets. 5-7 short stories will make it easier to publish a novel. You probably already have an audience.
Write stories, do podcast. Make content.
Volunteer to be a slush reader for flash fiction online.
Story - And All Our Bones Were Dust.
Bad Title - One word.
Length 2 page.
Sue you if you steal my idea.
Shocking.
A map.
Movie stars as charcters.
Start with sickening imagery. There is nowhere for the story to go.
Incessant swearing.
Writers of the Future - Going into High Schools and Jr Highs.
David Farland - Editor writers of the Future.
Wonder comes from the concept. Use very original language. Reinvent the language.
Look these up for the Hugo and Nebula. 1000 is flash 7500 is a short 17500 is a novellette
Flashbacks - need enough anchoring for the flash back. Can't be longer than what came before it.
Can narrate between scenes. Some sort of interstitial material.
Skip the boring parts.
The abrupt scene break is your friend. Let the reader figure it out.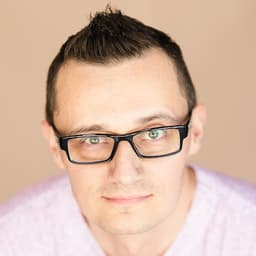 Rob Skidmore writes science fiction stories about being human. Raised in rural Western New York, he now lives with his beautiful wife in Utah. They have four kids whose initials spell HOME. By day he's a software engineer. By night he's exhausted. Every door in their basement is painted with a Disney-themed mural. His claim to fame is that he was an All-American and the 2004 New York state champion in the 400m hurdles in high school.
More about Rob